Rob Bender  #57

Nickname: Bendinator

FSB Race Team: =FSB= Racing

Hometown: Dartmouth, N.S. Canada

Occupation: Cabinet Maker/Installer

Year Born: 1957

Joined FSB:  Season 1

Favorite NASCAR Driver: Dale Earnhardt Sr.

Favorite FSB Series and Why:

"Winston,  Cars are a blast to drive (no plates) Friday night is relaxed and the guys have been a lot-a-fun to race with."

Favorite Tracks:

1. Atlanta

2. Sears Point

3. Mosport

Other Forms of Racing:

"X-country running, a little highway drag racing. (oops; did I say that out loud?)"

Favorite FSB Moment:

"Winning South Boston from the pole. Led every lap.

FSB Career Highlights:

"First FSB League win at Sears Point.  Dominating South Boston.

Punting the boss to get to Hurk and pass him for the win at the Brickyard."

Favorite Quote:

"A bad day fishing is still better than a good day working."

Other Interests:

Hunting

Fishing

Photography

Family

Family and/or Life Info:

"Married since 1981. Two children, girls, 21 & 13 years old."

View my stats in the following series:

View my favorite links: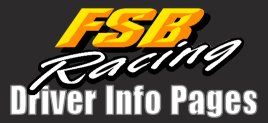 Thank you for viewing my FSB Driver Info Page*