Milt Minter Jr  #0

Nicknames: The Monster

FSB Race Team: =FSB= Racing

Hometown: Fresno, CA USA

Occupation: Tile Setter/Instructor

Year Born: 1963

Joined FSB: July 2003

Favorite NASCAR Driver: Dale Earnardt Sr

Primary Sponsor: Mapei/Gunnar Racing

Favorite FSB Series and Why:

The Road Rage.

"Love of road racing.  Fortunate to have a series named after

my dad."

Favorite Tracks:

1. Laguna Seca

2. Le Mans

3. Nurburging

Other Forms of Racing:

"Motorcycles, slot cars, ATVs, street cars.  Riding in the passenger seat in a 935 Porsche, holding on to the roll-bar, with no seat.  At a 160 mph."

Favorite FSB Moment:

"My first victory against Jim Ray.  At Watkin's Glen. October 1, 2003.  After following around for a season.  Learning how to race/behave. lol" 

FSB Career Highlights:

"4th Road Rage title. Getting the big trophy with my dad's name on it.  Carried my computer to the hotel room in Oakland.  All to run the final few races of the season.  It was after my dad passed, and brought us closer together."

Favorite Quote:

"The best part of you, ran down your mama's leg and left a brown stain on the mattress."

Other Interests:

"Do you really want to know?"  

Family and/or Life Info:

"Have a lot of people that depend on me.  And that's a good thing. Cause I could get in a lot of trouble if it weren't for them and this league. Married for 20 years with my lovely wife Jean.  Still working the kinks out.  Very proud of my 16 year old daughter, Jessica.  But scared because she has "his" look in her eye.  Fearless, like my dad was."

View my stats in the following series:

View my favorite links:

Latest News:

"Enjoying the hell out of Season 12. (12 seasons?)  Huntin' down the work. Racing when I can.  Just love this league and the ability to show up and escape reality for a few hours. It's always my dream to race and this league has given me the opportunity/for dollars a month. Unless Roger Penski calls, this is what I will be doing in the near future."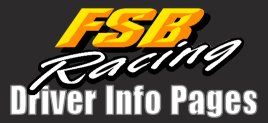 Are you a current member of FSB? Want your own page?

A $10 donation and one will be created for you asap.

All information and pictures are optional.

I will take care of the car pictures. You customize the rest.

Answer the topics, choose the color scheme, add links and submit your three pictures with titles.

We will get to know each other a little better.

Funny how no one ends up looking like or doing what you thought, huh?

After we agree that the page is done.  You will only be able to request changes in the off-season.

Then donations will be graciously accepted but will not be required.

The page will be linked right from the driver list on our homepage.

The pages are made first-come-first-serve.

The $10 donation is required before we begin.

Thank you for viewing out my FSB Driver Info Page*